The Vault Add-On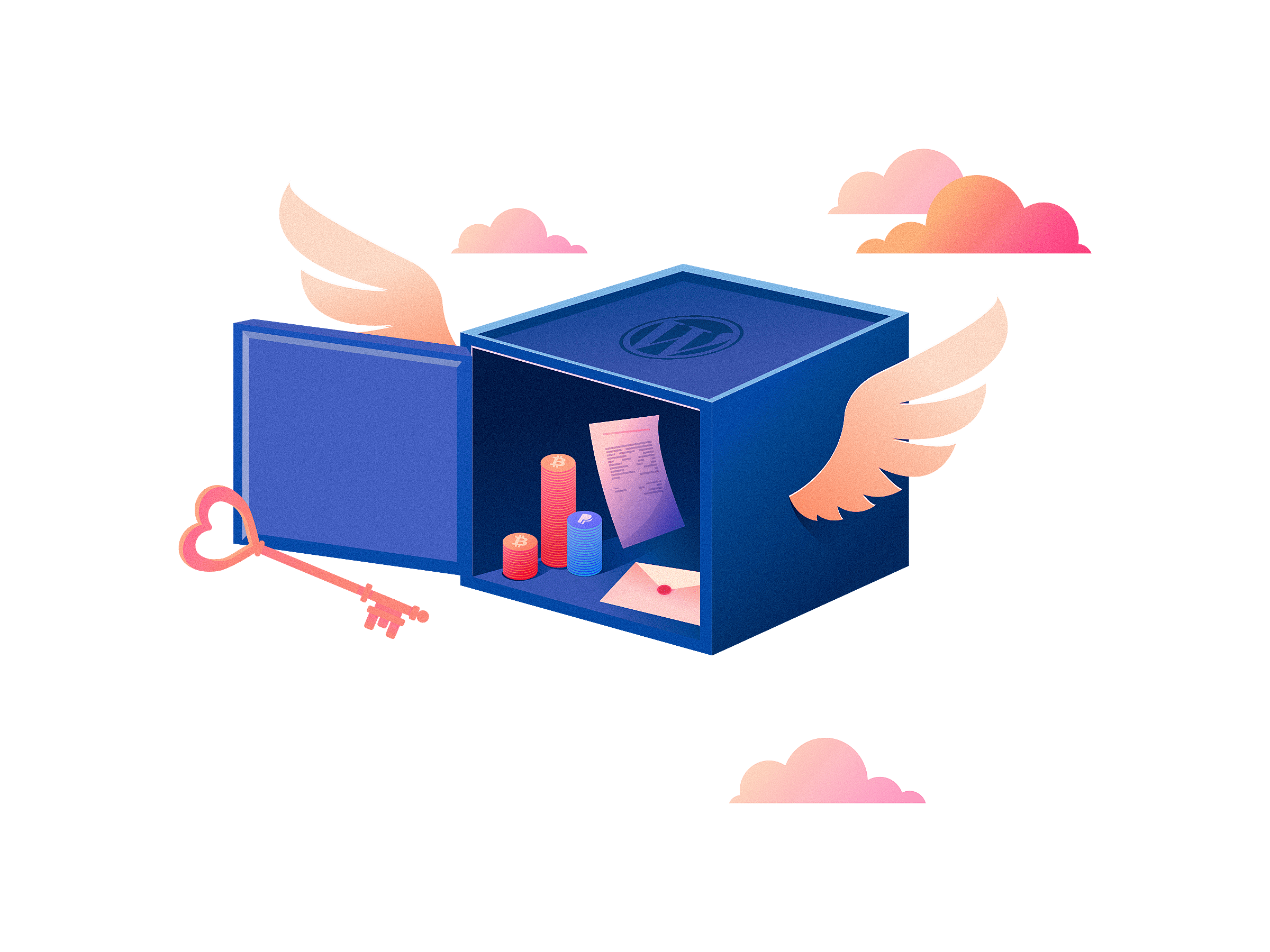 Encrypt important login data and information for your contacts
With the Vault, you can store confidential information from more than 15 categories in your WordPress website. It will be secured with a highly secure, 256-AES encryption and will hide your credentials and login data from eyes of other WordPress users or even hosting providers and hackers.
To use this extension, we recommend using the bulletproof package, so you can address your Vault items to more than just 3 people.
On creating a new Vault item, you can select from more than 15 categories, like in the following example, the bank accounts. Each category item will provide different input fields, which then can be encrypted by a password:
When you create a Vault item, you must select one or more contacts that will get an e-mail in an emergency case or death, informing them that you have placed
Inform your contacts before something happens
But you don't need them to wait until something happens to you to know that you've placed an information in your Vault. Just invite them right away, and they will get an e-mail with an invitation to create an account on your website. Only if that account matches the e-mail address you have added for them when you created the contact, they will see the Vault item (EmergencyWP checks this with a double-opt-in mail). Attention: They won't see the content of the item yet, unless you allow this with the following option.
You can also reveal your Vault item content before something happens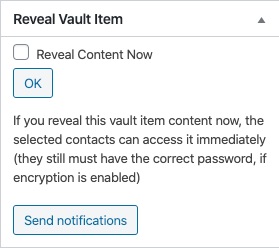 Sometimes it's necessary to let your contacts know about some important information when you're still alive and well. You can select this on the right side of the Vault item, too and send them an email about it. After they've created an account on your website, they will be able to see also the content of the vault item as long as they have the correct password!
About encryption and password forwarding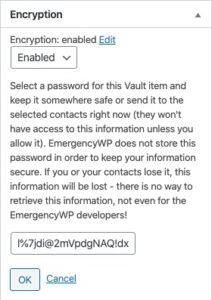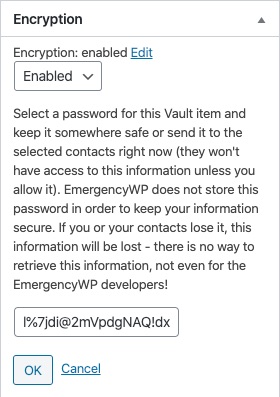 To encrypt the information in the input fields of each category, simply enable encryption and enter a passcode into the field and hit "OK". Once you update the Vault item, the information is bulletproof. The more complex your password was, the safer your information is. 
🚨 You are responsible for the password and how you deliver it to your contacts! We recommend using an end-to-end encrypted messenger or a personal handover.
⚠️ EmergencyWP does not store the password anywhere to keep the information really safe. If you lose it, nobody, not even the EmergencyWP developers can help you retrieving the information.
About the AES-256 encryption
The Vault uses the highly secure 256-AES encryption.
AES stands for Advanced Encryption Standard, which is the norm used worldwide to encrypt data.
256 refers to the key size – the larger the size, the more possible keys there are. To understand the magnitude of the effort it would take to try all possible combination keys, 256-bit encryption offers more combination possibilities than there are stars in the universe (a septillion or 1024 stars), and would take more years by billions of computers to crack than the age of the universe (13.8 billion years).
The Vault can hold information from more than 15 categories for now. These are:
Bank Accounts
Collectibles
Funeral Arrangements
Health directives
Investments
Insurances
Pets & other animals
Photos, videos, other media
Prescriptions
Real Estate
Retirement plans
Safes and storages
Social media accounts
Websites
Wills and testaments
and more to come…
The process of creating a Vault item and assigning it to contacts
The following process flow diagram describes how the Vault works and when e-mails will be send: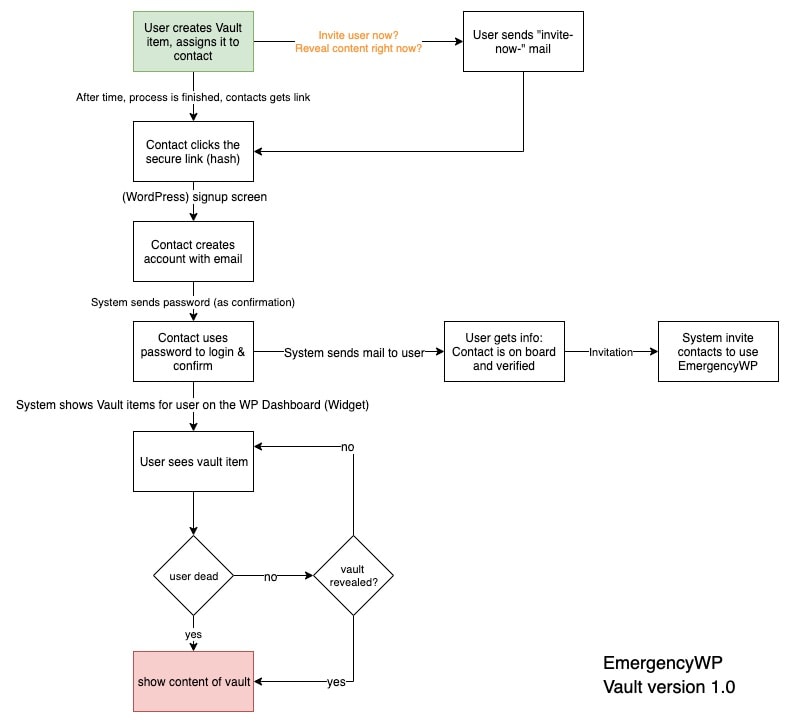 The Vault Add-On
Encrypt important login data and information for your contacts Renews at 25% discount yearly
Renewals are optional! All purchase options are billed yearly with a discount option. You may cancel your subscription at any time. Extensions subject to yearly license for support and updates. View terms.
*** 08.12.2021, v.1.2.3 ***
– Fixes compatibility with WordPress free plugin
*** 03.11.2020, v.1.2.1 ***
– Fix compatibility with woocommerce
*** 02.11.2020, v.1.2.1 ***
– Fix REST API compatibility
*** 03.02.2020, v.1.2.0 ***
– Add recaptcha on sensitive forms
– Fix issues with encryption
– Add new category Secure Notes
*** 16.01.2020, v.1.1.1 ***
– Fix main plugin activation check
*** 13.01.2020, v.1.1.0 ***
– Change folders names according to wordpress naming standard
*** 11.01.2020, v.1.0.0 ***
– Public release